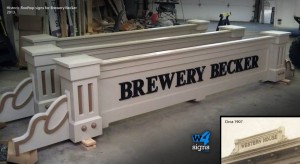 The most basic type of 3D (three dimensional) letters are vinyl, wood, PVC plastic, or metal letters in a serif (like Times New Roman) or sans-serif type face (like Arial). The large, individual letters are arranged into a business sign (most often the business' name or business' product and service).
With the exception of wooden letters, 3D letters made of vinyl, PVC plastic, aluminum, or acrylic will withstand the outdoor elements. These high durability letters can be mounted to the building exterior, a monument sign base or to another sign surface.
Some of the most common uses of 3D letters include house numbers, street signs, apartment numbers, or business names.
Outdoor 3D Letters
For those on a smaller budget, stock 3D letters make a good solution to your outdoor sign needs. The letters look professional and their durability makes them a good investment. At W4 Signs, we have several sizes and colors of vinyl letters. Don't let budget restrictions keep you from reviewing custom cut vinyl letters or lit channel letters options.
If you are in the Brighton, Howell, Hartland, or South Lyon, Michigan, area, please visit the sign shop to see (and touch) the letters we have in stock. For our Internet customers in the Longmont, Colorado, please contact the sign shop to see what sizes are available. We can also custom order larger letters.