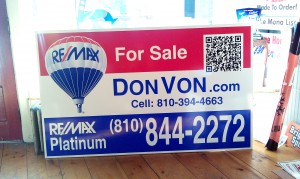 W4 Signs can meet all of your yard sign needs. Our expert yard sign design team will help you advertise your listings faster without sacrificing quality.
Directional Signs
Welcome Signs
All of our outdoor signs are constructed with professional grade vinyl, coroplast or aluminum. For more permanent yard signs, our sales team will work with you to verify all city and county ordinances have been met before the sign is installed.
Attention-Getting Lawn Signs
Permanent or temporary, you will notice the difference in craftsmanship when you purchase yard signs from W4 Signs. Once you approve the design, our team will print and build your lawn signs making them ready to catch the eye of potential buyers.
Large or small, you'll find that W4 Signs is your local source for Yard Signs. Contact us today at 810-588-4703 or complete our online form.