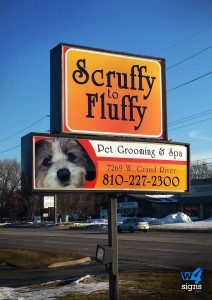 Drive through any business district, and you are likely to see a series of light boxes — large, rectangular business signs that are lit from inside. This type of sign goes by a variety of names like Light Box Signs, Backlit Displays, LED Lightbox Signs, Marquee Signs, and Illuminated Pole Signs.
Often times this type of sign is called a "Cabinet Sign" because the construction is very much like that of a cabinet, except containing light fixtures instead of shelving.
Whatever you call it, your lightbox sign from W4 Signs will stand out in any crowded marketplace.
Custom Light Box Signs
Lightboxes are popular for a variety of reasons:
They are visible 24/7.
Light Boxes are very easy to update.
Designs are customized to fit your branding.
Lightboxes provide a large outdoor advertising space.
The vibrant, colorful panels function day and night.
The two sides of the lightbox are effective for catching traffic in multiple directions.
Can be used indoors or outdoors.
Experienced Lightbox Design and Installation
When you work with W4 Signs, you'll see original, carefully crafted lightbox signs that are specifically designed to represent your business' brand. Our lightboxes can be custom-made to fit your location, or choose from a variety of standard sizes. W4 Signs can handle your entire project from design to fabrication, permitting, and installation.
Light box signs are often installed as a "pole" sign, above the ground in front of a building. It is also popular to mount lightbox or cabinet signs directly against a building. Cabinet signs can also be integrated as part of a monument sign using wood, metal or masonry construction around the cabinet to provide a truly distinctive look.
Normally, you will find that light box signs are shaped as a rectangle or square, but not necessarily! We can custom form a cabinet sign with curves or other shapes as well. Circles, logos, even fully-formed letters or words are all possible with a light box sign.
Over the past five years, our team has created and installed lightboxes for dozens of industry leaders in areas like healthcare, churches, schools, retail stores, and malls.
Refurbishing Light Box Signs
Light boxes are easy and economical to update due to simple, modular construction. The W4 Signs creative team will design, produce and install new panels to fit into your existing light box. Should you need electrical maintenance on the lightbox's wiring, our licensed electrician is available to assist you. Replacing the panels in an existing light box is a very cost-effective way to update your business image.
Ready to start your lightbox project? Contact W4 Signs today.