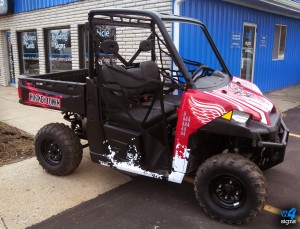 Whether your transportation is a four wheeler, quad or all terrain vehicle (ATV), W4 Signs can turn your stock 4 wheeler into a work of art with high quality vinyl graphics.
Vehicle Wrap for Quads
Vehicle wraps aren't just for cars and trucks. Our designers can take your vision or your favorite hobby, and design ATV graphics that will show everyone your mission.
From camouflage to college blue and gold, our long-lasting, vinyl graphics will make an impression on anyone who sees your Kawasaki Mule or four wheeler.
Golf Carts to Four Wheelers
Trust your ATV to our expert installers. Over the last 15 years, we have added vinyl graphics to just about everything (boats, trucks, semis, stock cars, dragsters, golf carts, and four wheelers).
When you are ready to show your true colors, call W4 Signs at 810-588-4703. Full or partial ATV wrap, we're ready to make your four wheeler or mule look fantastic.